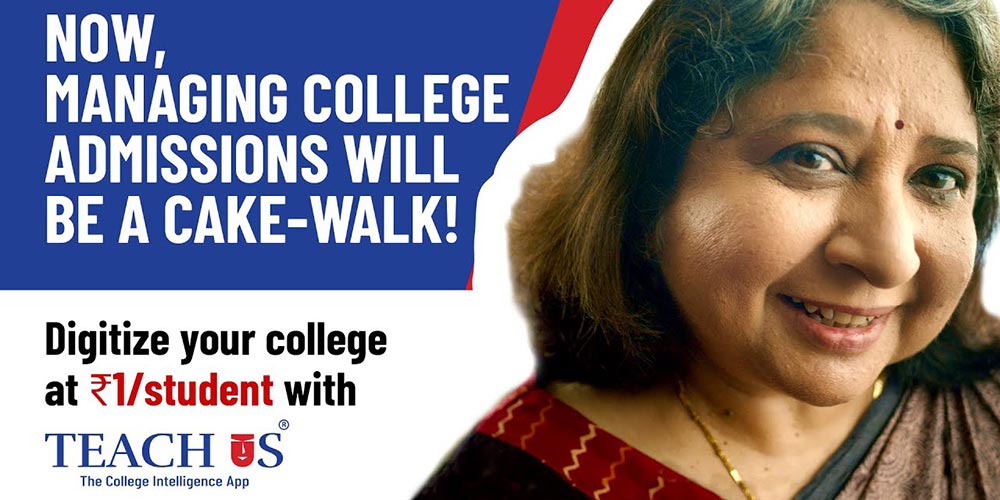 Trustee ka Trust
Recommended by Principals
Our online exams were conducted in a hassle-free way just because of the Teach Us App. The after-service team is managing things effectively with quick responses to all of our queries.

Dr. S. A. Shende

I/C Principal, Annasaheb Vartak College of Arts, Commerce & Science.

Teach Us App is really simple, easy to use and extremely effective! Wherever you are, you get real-time information which is very useful. I think this is something every college is going to need in future!

Dr. Mona Mehta

Vice-Principal, Nagindas Khandwala College (Autonomous). Ranked First – All India (NASP).

I strongly recommend the entire college fraternity to use Teach Us App! It caters to a lot of your unique requirements and it is doing exceptionally well in our college.

Dr. G. K. Kalkoti

Principal, M V Mandali's Colleges of Commerce & Science.

All the teachers, students, and even parents will vouch for the fact that a lot of things have changed in college administration and data analytics after we've implemented Teach Us. It's an amazing app!

Dr. Shobha Menon

Principal, Cosmopolitan's Valia College.

Teach Us is extremely simple to use App! It is helping us in saving a lot of papers and time. I strongly recommend this to all the colleges if you really want to keep a tab on your academic progress.

Dr. M. S. Raje

Principal, VPM College.

We have been using almost all the products of Teach Us App and found them most satisfactory and efficient! The quality of their timely services are surprising too! I highly recommend this to all the colleges.

Dr. Zarine Bhathena

Principal, Bhavan's College (Autonomous). Recipient of Best College Award (University of Mumbai).

The services provided by Teach Us are worthy of appreciation. It worked wonders as a teaching-learning solution, and as an examination software. It has been liked by our faculty as well as students alike.

Dr. Dilip Patil

Principal, Sheth NKTT College of Commerce and Arts.

Teach Us is a simple, user-friendly, and technically sound app. It organizes content, tracks learner progress, reduces cost, etc. It integrates and gives a holistic view of what's happening in the college.

Dr. Judy Grace

Principal, Gandhi Shikshan Bhavan's Surajba College of Education.

Shifting from offline to online mode was extremely easy and stress-free because of Teach Us App! We would like to express our sincere admiration for the App and for the prompt response from the service team.

Prof. V. Manikandan

I/C Principal, Matushri Pushpaben Vinubhai Valia College of Commerce.
/
Features


Hassle-free Online Admissions


Automatic Attendance Marking System
(Online/Classroom lectures)

Real-time Online Syllabus Tracker

Student to Faculty Feedback
(As per NAAC)



Inbuilt Real-time Notification


Intelligent Analytics
Get to know the insights of your college with our in-depth analytics. Whether you are there inside the college or outside the country, you'll be always aware of what's happening in your institute!

Hassle-free Online Admissions
Complete the college admission process in the simplest way possible, be it new admission or the promotional one, we take care of everything from form filling to online payment to ID card generation.

Swift Lecture Scheduler
Schedule any lecture in few clicks and your students will never miss any lectures with our timely lecture notifications.

Automatic Attendance Marking System
(Online/Classroom lectures)
Liberate all your faculties from any manual way of marking class attendance. Just 90 seconds and the job of attendance marking will be done with our automated attendance management feature!

Real-time Online Syllabus Tracker
Keep an eye on how the syllabus of any subject is being completed or even if it is really completed or not, through our Online Syllabus Tracker feature!

Student to Faculty Feedback
(As per NAAC)
Get the feedback of your faculties to gauge their performance from students whenever you want. Link it with attendance and make it more authentic. Most helpful for NAAC too!

Digital Notice Board
Communicate official notices with digital noticeboard. Send it to Faculties, Students and even to Parents and they'll never miss anything important.

Digital Notes Sharing
An easiest way to skip xerox and share notes with the students digitally.

Inbuilt Real-time Notification
Get notified about every single action being performed by your faculties with regards to teaching-learning process!

Proctored Online Exam
A robust and malpractice-free way to conduct exams online. We offer variety of exam proctoring options with 99.99% stability.
Easy to Use
A user-friendly interface
One Click Information
Get real-time updates
Value For Money
Great price and great service

A social initiative organized to shed light on topics that are bound to create value for every participant. In association with our host college, we call in expert educationalist to talk about anything but education.
Speakers
Dr. Hemlata Bagla
Vice-Chancellor,HSNC University - Mumbai//=($row['belong_to_city']) ? trim(strip_tags($row['belong_to_city'])) : ''?>
Fr. Felix Raj
Vice-Chancellor,St. Xavier's University - Kolkata//=($row['belong_to_city']) ? trim(strip_tags($row['belong_to_city'])) : ''?>
Dr. Suman Sharma
Principal,Lady Shri Ram College – Delhi (NIRF 2021 - Rank 2)//=($row['belong_to_city']) ? trim(strip_tags($row['belong_to_city'])) : ''?>
Prof. John Varghese
Principal,St. Stephen's College - Delhi (NIRF 2021 - Rank 8)//=($row['belong_to_city']) ? trim(strip_tags($row['belong_to_city'])) : ''?>
Dr. Naresh Chandra
Director,B. K. Birla College and Ex. Pro-VC of University of Mumbai//=($row['belong_to_city']) ? trim(strip_tags($row['belong_to_city'])) : ''?>
Dr. Rajendra Shinde
Principal,St. Xavier's College - Mumbai//=($row['belong_to_city']) ? trim(strip_tags($row['belong_to_city'])) : ''?>
Dr. Vijay Joshi
Chief Consultant of RUSA and Former Principal,K. J. Somaiya College - Mumbai//=($row['belong_to_city']) ? trim(strip_tags($row['belong_to_city'])) : ''?>
Dr. S.K. Chakravarti
Former Academic Dean,NIT – Kurukshetra//=($row['belong_to_city']) ? trim(strip_tags($row['belong_to_city'])) : ''?>
Dr. Shobana Vasudevan
Principal,R.A. Podar College of Commerce & Economics (Autonomous), Mumbai//=($row['belong_to_city']) ? trim(strip_tags($row['belong_to_city'])) : ''?>
Dr. Lalitha Balakrishnan
Principal,M.O.P. Vaishnav College of Women, (Autonomous) - Chennai//=($row['belong_to_city']) ? trim(strip_tags($row['belong_to_city'])) : ''?>
Dr. Dilip S. Patil
Director of Lifelong Learning & Extension,University of Mumbai//=($row['belong_to_city']) ? trim(strip_tags($row['belong_to_city'])) : ''?>
Dr. Sujay Nair
President,iNurture - Bangalore//=($row['belong_to_city']) ? trim(strip_tags($row['belong_to_city'])) : ''?>
Dr. Nandkumar Nikam
President,Pune University (SPPU) Principal Forum//=($row['belong_to_city']) ? trim(strip_tags($row['belong_to_city'])) : ''?>
Dr. Lily Bhushan
Principal,KES's B. K. Shroff College of Arts and M. H. Shroff College of Commerce - Mumbai//=($row['belong_to_city']) ? trim(strip_tags($row['belong_to_city'])) : ''?>
Dr. Rajendra S. Patil
Dean,Science and Technology Faculty of Jalgaon University (KBCNMU)//=($row['belong_to_city']) ? trim(strip_tags($row['belong_to_city'])) : ''?>
Prof. Vibhuti Patel
School of Development Studies,TISS Mumbai//=($row['belong_to_city']) ? trim(strip_tags($row['belong_to_city'])) : ''?>
Dr. Debajit N. Sarkar
Principal,SES's L.S. Raheja College of Arts and Commerce - Mumbai//=($row['belong_to_city']) ? trim(strip_tags($row['belong_to_city'])) : ''?>
Prof. Kiran Desai
Officiating Director,Center for Social studies - Surat//=($row['belong_to_city']) ? trim(strip_tags($row['belong_to_city'])) : ''?>
Dr. Harish Kumar S. Purohit
Director,PTVA's Institute of Management, Mumbai//=($row['belong_to_city']) ? trim(strip_tags($row['belong_to_city'])) : ''?>
Dr. Sangeeta Pawar
Professor and Elected Senate Member,University of Mumbai//=($row['belong_to_city']) ? trim(strip_tags($row['belong_to_city'])) : ''?>
Dr. Abhishek Sinha
Asst. Professor,IBS Hyderabad//=($row['belong_to_city']) ? trim(strip_tags($row['belong_to_city'])) : ''?>
Shri Anil Hebbar
Helping Hands Charitable Trust,Mumbai//=($row['belong_to_city']) ? trim(strip_tags($row['belong_to_city'])) : ''?>
Dr. Dattatraya Ghuge
Dy. Registrar, Teacher's Appointments,University of Mumbai//=($row['belong_to_city']) ? trim(strip_tags($row['belong_to_city'])) : ''?>
Dr. Satish Kumar
HOD of Applied Psychology and Counseling Centre,University of Mumbai//=($row['belong_to_city']) ? trim(strip_tags($row['belong_to_city'])) : ''?>
Mr. Asif Rampurwala
Vice – Principal,Vidyalankar School of Information Technology - Mumbai//=($row['belong_to_city']) ? trim(strip_tags($row['belong_to_city'])) : ''?>
Dr. Ritesh Shukla
Jamia Hamdard Alumnus, Assistant Professor,Ahmedabad University//=($row['belong_to_city']) ? trim(strip_tags($row['belong_to_city'])) : ''?>
Dr. Meghna Basu Thakur
HOD of Psychology,R. D. National College - Mumbai//=($row['belong_to_city']) ? trim(strip_tags($row['belong_to_city'])) : ''?>
Dr. Monali Chaterjee
Assistant Professor,Nirma University - Ahmedabad//=($row['belong_to_city']) ? trim(strip_tags($row['belong_to_city'])) : ''?>
Ms. Neha Dalal
I/C HOD of Psychology,L. S. Raheja College - Mumbai//=($row['belong_to_city']) ? trim(strip_tags($row['belong_to_city'])) : ''?>
Ms. Debolina Dutta
Professor of Practice,IIM Bangalore//=($row['belong_to_city']) ? trim(strip_tags($row['belong_to_city'])) : ''?>
Mr. Ravi Miglani
IIM-A Alumnus; Director - GEMBA Program,Ahmedabad University//=($row['belong_to_city']) ? trim(strip_tags($row['belong_to_city'])) : ''?>
Ms. Juhi Bansal
Associate Director, Learning Initiatives,Ahmedabad University//=($row['belong_to_city']) ? trim(strip_tags($row['belong_to_city'])) : ''?>
Dr. Hemant S. Chandak
Recipient of UGC Raman Fellowship,Professor - GSSAC College, Khamgaon (Maharashtra)//=($row['belong_to_city']) ? trim(strip_tags($row['belong_to_city'])) : ''?>